Home


Coaching Services


Workshops


Counseling Servies


About Jackie


Testimonials


Contact Us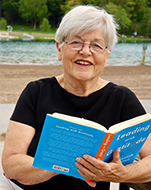 Contact:
Jackie Michel, M.S.
Phone: 315.859.1470
Email:
jackiegmichel@gmail.com
Professional and Personal Coaching for executives, managers, business owners and professionals
Think about it. You are the one that others turn to for decision and guidance, but you may not have anyone to fill that role for you.
Coaching affords you the opportunity to discuss totally confidential information knowing that it will stay between you and the coach.

Coaching allows you to explore the responsibilities and challenges of your professional life, and develop action-oriented strategies and solutions.

When work/life stresses interfere with your capacity to focus and produce results, coaching with Jackie Michel provides a context to solve and clear up the issues.

Coaching helps you mobilize your best assets and activate the courage and competence to reach your goals.
People committed to excellence and being their very best, like Olympic athletes or golf and tennis pros, all have a coach. Why wouldn't you?
Call to register and to schedule free pre-coaching consultation for each participant.
REGISTRATION: *Options are payable in advance by check. All fees are non refundable and all purchases are final.
Your coaching will begin when your payment has been received, and when you have completed and returned your coaching agreement form, client information form and call focus form.
QUESTIONS:
Call 315-859-1470 to schedule a 15 minute time for your free pre-coaching consultation, to answer questions and to review your goals.